1893-S Morgan Silver Dollar
The 1893-S is the king of Morgan dollars , one of the most collected series of all. Of the only 100,000 minted less than a tenth of that is believed to have survived. Only 1 coin is available.
                                                                       $ 5,295
A recent example in MS 67 sold for over a million dollars and an MS 65 sold for $646,250 in 2014. While the VF 25 example is of a lower grade it is still the same date and mint mark with a much lower price tag. A rising tide lifts all ships and the lower grade examples are sure to be affected by these two record prices.
Quoted from "The 100 Greatest US Coins" Number 83
 The 1893-S silver dollar has the lowest mintage of any of the Morgan dollars minted between 1878-1921, making it one of the rarest and most valuable coins in the series. In fact, the 1893-S silver dollar is the most valuable of any of the dates made for circulation. the only other date that is more valuable is the 1895, a date that is believed to have been issued only as a Proof. The Morgan dollar, because of its large size and silver content, is perhaps the most popular series of American coins ever produced. Because so many people are familiar with the rarity of the 1893-S silver dollar and because so many people still need the coin to complete their set, the authors feel it deserves a place in the pantheon of the Top 100 American coins.
 ______________________________________________________________________________________________________________
Coin Agent Instant Portfolio Kit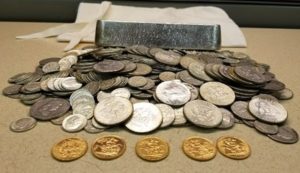 Includes:
5 – British Sovereign Gold Coins (.2354 AGW – Mixed Dates)
$100  Face  Value  Pre-1965  90%  Silver  (Mixed Dimes, Quarters, and Halves)
1 –   100 oz Silver Bullion Bar
$4,895  –  Free Shipping
Only 1 Available
Supplies Are Limited
CALL NOW TO ORDER
1-888-494-8889

www.thecoinagent.com